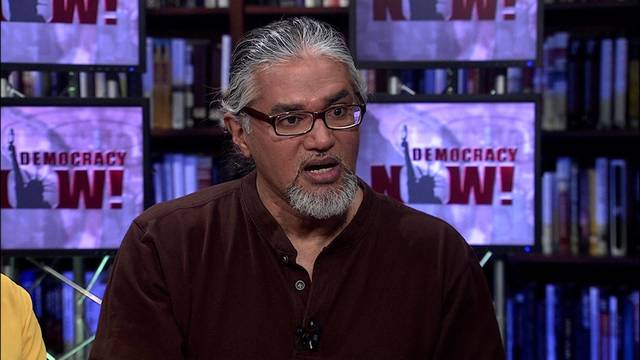 One of New York's best-known immigrant rights advocates, Ravi Ragbir, the executive director of the New Sanctuary Coalition, was detained today while reporting to Immigration and Customs Enforcement for a scheduled check-in.
Democracy Now! was there this morning when New York City police officers violently shoved protesters and city council members aside as they escorted an ambulance away from 26 Federal Plaza with Ragbir inside to an ICE detention center. Ragbir, head of the New Sanctuary Coalition of New York, was detained when he checked-in with ICE, as hundreds held a silent Jericho prayer walk outside. An ambulance was called after Ragbir reportedly fainted when told he would not be released. This video shows NYPD shoving aside City Council Speaker Corey Johnson just minutes after Johnson came out from accompanying Ragbir to his check-in, and documents officers telling council member Ydanis Rodriguez to "stop resisting" arrest as he sat down on Broadway in front of the ambulance, and appeared to be cooperating with orders. At least 18 people were arrested today.
Ravi legally immigrated to the United States from Trinidad and Tobago more than 25 years ago, but a 2001 wire fraud conviction made his green card subject to review. Even though he is married to a U.S. citizen and has a U.S.-born daughter, the government refuses to normalize his status. Just last year, Ravi was recognized with the Immigrant Excellence Award by the New York State Association of Black and Puerto Rican Legislators, given to those who show "deep commitment to the enhancement of their community."
Democracy Now! has closely covered Ragbir's case over the years.
"Ravi Ragbir means everything to this city," said New Sanctuary Coalition Co-Chair Rev. Kaji Dousa. "A longtime New Yorker, a husband and a father, Ravi is beloved by all of us who have had the privilege of working with him to make New York a welcoming community for all of its residents. The fact that ICE has taken him as if his spirit, family ties and contributions to the community mean nothing is inhumane."
Follow Democracy Now! on Twitter for the latest developments.
JUST IN: Immigrant rights activist Ravi Ragbir of @NewSanctuaryNYC has just been detained at his scheduled check-in with ICE agents in New York City

— Democracy Now! (@democracynow) January 11, 2018
We spoke with Ravi Ragbir before his ICE check-in last March, where Ravi feared he'd be detained. He was released after hundreds of supporters, including NYC elected officials, rallied outside his meeting with a deportation officer: https://t.co/TL17LlZbCa

— Democracy Now! (@democracynow) January 11, 2018
Community leaders and supporters conducted a "Jericho Walk" around the Federal Building in Manhattan before Ravi Ragbir's check-in earlier today, marching in silence in support of his release pic.twitter.com/CUzdr7ZsXE

— Democracy Now! (@democracynow) January 11, 2018
Happening now: Immigration agents who have detained Ravi Ragbir, aiming to remove Ravi immediately from the Federal Building, have called an ambulance. Hundreds of Ragbir's supporters have gathered and some are blocking the vehicle pic.twitter.com/wx2mTDI8rU

— Democracy Now! (@democracynow) January 11, 2018
---