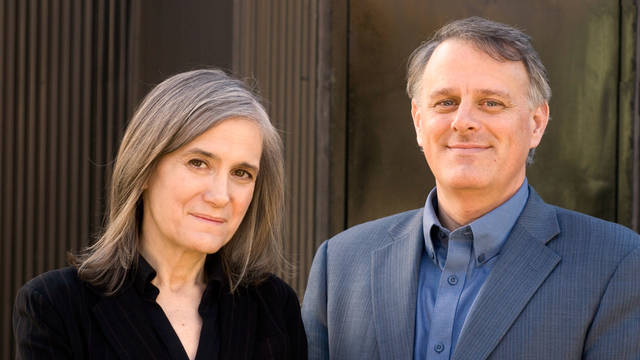 Media Options
By Amy Goodman & Denis Moynihan
Draw a straight, 2,400-mile line from the tar sands oil extraction fields in northern Alberta, Canada, to the Florida Panhandle, just ravaged by Hurricane Michael, and the halfway point will fall in Clearwater County, Minnesota, the source of the Mississippi River. Although many miles apart, these places are inexorably linked – by climate change. Fossil fuel extraction from the Alberta tar sands drives global warming, which in turn increases the destructive power and frequency of storms like Hurricane Michael. And rural Clearwater County served as the site of another phenomenon linked to human-induced climate change: resistance. Three courageous citizens engaged in nonviolent direct action broke into a fenced enclosure owned by Enbridge, one of the world's largest oil pipeline operators, and turned the valves, shutting down the flow of tar sands oil.
On Oct. 11, 2016, less than a month before the momentous U.S. election that delivered the presidency to climate change denier Donald Trump, these three activists approached a valve station in Leonard, Minnesota. Emily Johnston and Annette Klapstein, wearing hard hats and bright fluorescent vests, used chain cutters to open the gate and to unlock the hand-operated valves. The third person called Enbridge to let the company know that the pipelines were about to be shut down so they could take immediate action to avoid pressure buildup in the pipeline.
"For the sake of climate justice, to ensure a future for human civilization, we must immediately halt the extraction and burning of Canadian tar sands," Benjamin Joldersma said into the phone. "For safety, I am calling to inform you that when I hang up this phone, we are closing the valves. Please shut down these two pipelines now, for safety and for our future."
There were three other similar actions that day, in Montana, North Dakota and Washington state, all organized, along with the Minnesota protest, by the group Climate Direct Action. The goal of the four coordinated actions was to shut down all tar sands oil delivery from Canada into the United States, and it succeeded, according to the organizers. Tar sands oil is the world's dirtiest petroleum; it is energy- and water-intensive to extract, and the sprawling, open-pit mining operations form a gray-black, toxic wasteland in the midst of Alberta's vast boreal forests.
This multistate nonviolent civil disobedience had another motive, as well: to attempt to present a "defense of necessity" — that is, the defendants would acknowledge that they broke a law, but they did so out of necessity to prevent a far greater harm from occurring. "Valve turner" Annette Klapstein is a retired attorney for the Puyallup Tribe and member of the Raging Grannies. Speaking on the "Democracy Now!" news hour, she explained the theory behind the necessity defense:
"The example that's usually used is there's a burning building and there's a child in it. You break in and save the child but are charged with burglary, and you come out and say, 'Well, yes, technically I did commit burglary because I had to break in. But I did it to save a child's life.' And we have a planet that's on fire. And all of our children are going to burn if we don't do something about it."
Their trial commenced two years later, almost to the day, at the Clearwater County Courthouse in Bagley, Minnesota. In a major surprise, the judge accepted a defense motion to acquit the defendants. They were declared not guilty before the trial even got going.
Emily Johnston, co-founder of 350Seattle.org, was glad to avoid prison, but disappointed that they couldn't put climate change on trial. Among the experts who were slated to testify on behalf of the defendants was climate scientist James Hansen, former head of the NASA Goddard Institute for Space Studies.
Hansen testified before Congress about the threat of global warming in 1988. He supports civil disobedience to confront the fossil fuel industry, and has been arrested five times himself. "We see already the beginnings of more extreme events, stronger storms, greater droughts, increasing fires. But these are just a small beginning of what's in store for our children and grandchildren," he said on "Democracy Now!," seated next to Johnston and Klapstein.
The day before they were acquitted, just before Hurricane Michael slammed into the Florida Panhandle, the United Nations released a ground-breaking report from the Nobel Peace Prize-winning IPCC (Intergovernmental Panel on Climate Change). The nearly 100 scientists who wrote it, concluded in no uncertain terms that we have about twelve years to radically reduce our carbon emissions, or we'll be locked into a trajectory that will be devastating to humanity and all life on Earth.
President Trump says the government is doing all it can for the victims of Hurricane Michael. Once again, he is lying. By denying climate change, he is assuring many more increasingly devastating storms and countless victims to come.
---