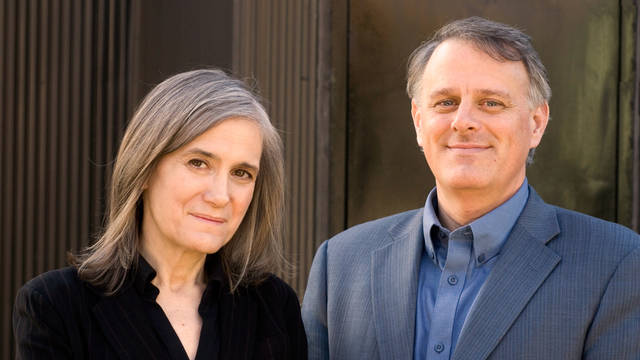 Media Options
by Amy Goodman and Denis Moynihan
Amazon made its long-awaited announcement this week, revealing where it will site its second headquarters, dubbed HQ2. The selection process pitted over 200 cities against each other, vying for the prospect of hosting the new corporate campus with its promised 50,000 well-paying, white-collar jobs. Politicians prostrated themselves before the online behemoth and its CEO/founder, Jeff Bezos, the world's richest man, as they competed to lavish the company with as many enticing public subsidies and tax breaks as possible. The winning city would flourish, they hoped, with increasing tax revenues and the emergence of a vibrant tech hub to rival Silicon Valley. In the end, Amazon announced that HQ2 would be divided into two smaller locations, one in Queens, New York, and the other in Crystal City, Virginia. While the details of the publicly financed subsidies remain shrouded, what is known so far is enough to confirm the worst fears of Amazon's many critics: The HQ2 auction was, at best, a boondoggle, yet another example of corporate welfare, transferring wealth from working-class taxpayers to a massive corporation and its billionaire owner.
"I am absolutely outraged that New York, under Governor Cuomo, is willing to give away up to $3 billion of taxpayers' money without any consultation," progressive Democratic New York state Assembly Member Ron Kim said on the "Democracy Now!" news hour, the day after Cuomo and New York City Mayor Bill de Blasio released details of New York City's winning bid for the scaled-down HQ2. "I'm introducing legislation to claw back this deal," he continued. "What's the point of having a majority progressive Democrat state Senate, that we worked so hard for in the state of New York, if we can't stop one man from transferring $3 billion of taxpayers' money to the richest man on this planet?" Kim was referring to last week's Democratic Party takeover of the New York state Senate for only the third time in the past half-century. Along with the Democrat-controlled Assembly in which he serves, Kim is optimistic that the generous subsidies can be rescinded.
Time magazine calculated that it takes Amazon CEO Jeff Bezos only nine seconds to earn $28,000, what the median Amazon worker earns in a year. Greg LeRoy of Good Jobs First has long watchdogged what he calls "persistent megadeals" like New York and Virginia's courting of HQ2. "It's another example of Amazon getting paid to do what it would have done anyway," he said on "Democracy Now!" "It wanted to be in the financial capital of the world and the political capital of the country, so no surprises about its location. We're massively subsidizing, yet again, a company to do what it wants to do anyway."
In response to de Blasio's claim that HQ2 will provide opportunities "for tens of thousands of New Yorkers, everyday New Yorkers, kids who come up through our public schools, kids who go to our community colleges and our four-year colleges," LeRoy says that "four out of five, typically, of the new job takers at a project like this will not be current residents of New York or Arlington [Virginia]. They will be people moving to the area from outside. That means a lot of growth getting induced, a lot of schools having to be expanded and infrastructure built and public services provided." All these paid for by the taxpayers, not by Amazon.
LeRoy also notes that Amazon "is the biggest cloud computing company in the world. It has roughly a 40 percent market share. And among its most lucrative clients in that space are the Pentagon and the Central Intelligence Agency and other federal agencies." That's why the other HQ2 is planned for Crystal City, Virginia — as LeRoy says, "very close — literally, practically a stone's throw from — the Pentagon."
"Amazon Doesn't Just Want to Dominate the Market — It Wants to Become the Market," read a headline for a Nation article written by Stacy Mitchell of the Institute for Local Self-Reliance. "It's now capturing one out of every two dollars that Americans spend online," she said on "Democracy Now!" Additionally, it kills small businesses. "We're losing about two retail jobs for every one job created in an Amazon warehouse," she said. The central threat, she added, is that "Amazon is about controlling the essential infrastructure that other companies need to use in order to reach the market … if you're any company producing or retailing anything, increasingly, if you want to be able to reach consumers, you have to become a seller on Amazon's platform. And what that means is that Amazon now controls your business."
Jeff Bezos originally called his company "Cadabra," as in "abracadabra," but, legend has it, his lawyer told him it sounded too much like "cadaver." Will Amazon's HQ2 spark a magical, high-tech age in Queens, or will it kill small businesses, drive up rents and leave the cadaver of a working-class neighborhood in its wake?
---