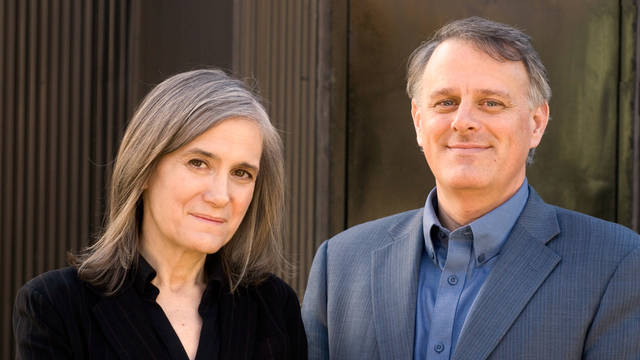 Media Options
By Amy Goodman & Denis Moynihan
President Donald Trump's crackdown on immigrants and his dislike for the news media collided in Memphis this month, as a well-known journalist was arrested while covering a protest against immigration detention, then was handed over to the U.S. Immigration and Customs Enforcement (ICE) authorities for deportation.
On April 3, Manuel Duran was outside the Shelby County jail in Memphis, reporting on the protest for the Spanish-language news site he runs, Memphis Noticias. Fifteen minutes into his livestream, police told him, "Get out of the street." Duran asked where to go, but before he could comply, one officer ordered other riot police, "Get him, guys." As the police dragged him away, two protesters latched on to Duran in a protective embrace, shouting, "He's a journalist!"
Duran was charged with blocking a roadway and disorderly conduct, charges that were promptly dropped. Rather than releasing him, on April 5 the Shelby sheriff handed him over to ICE. He was transported six hours south to the LaSalle Detention Center in Jena, Louisiana. ICE says he skipped an immigration hearing in 2007, and has been a fugitive ever since. His lawyer says he never knew about the hearing. Duran's consistent reporting over the years, operating in the open and often interviewing law enforcement and other public officials, debunks any allegation that he was living as a fugitive.
"He was a journalist for a community that often doesn't have somebody who sounds like them or looks like them or talks like them on the media," Mauricio Calvo, executive director of Latino Memphis, said on the "Democracy Now!" news hour. "Manuel played a very important role, reporting everything from government issues to cultural issues … truly the voice of the Latino community in Memphis."
Duran is being represented by lawyers from the Southern Poverty Law Center, who are contesting the immigration court's order of removal and defending Duran in federal court. SPLC senior attorney Kristi Graunke explained on "Democracy Now!": "We're contending that his continued detention violates … the United States Constitution, because his arrest was clearly without probable cause and without a warrant, and it was also retaliatory. This is a man who was very prominent in the press, in the local community, speaking out against the Memphis Police Department and ICE, and particularly the collaboration between the two."
Groups tracking attacks on the press call the global situation dire. Examples include the killing by the Israeli military of Ahmed Abu Hussein and Yaser Murtaja, two Palestinian journalists who were covering the ongoing protest at the separation barrier between Gaza and Israel; the arrest of two Reuters reporters in Burma for exposing a massacre of unarmed Rohingya Muslims by the Burmese military; the videotaped murder of Angel Eduardo Gahona in Nicaragua, as he was covering protests against pension reforms; and the massive crackdown on press freedom in Turkey, with over 250 journalists arrested, including, just this week, 14 members of the opposition newspaper Cumhuriyet. Mexican journalist Emilio Gutierrez Soto, detained by ICE in El Paso, Texas, is still fighting his deportation to Mexico, where he fears he would be killed.
In the United States, where press freedom is enshrined in the Constitution, Trump has been waging a relentless and unprecedented attack on the press. Reporters Without Borders released its 2018 World Press Freedom Index this week, writing, "In 2017, the 45th President of the United States helped sink the country to 45th place [out of 180] by labeling the press an 'enemy of the American people' in a series of verbal attacks toward journalists, attempts to block White House access to multiple media outlets, routine use of the term 'fake news' in retaliation for critical reporting, and calling for media outlets' broadcasting licenses to be revoked."
In a statement from detention, Manuel Duran wrote: "This episode in my life has not been easy, but I have taken it as an opportunity to learn first hand the drama and reality that our families are living when they are arrested by immigration and then deported. … How they keep the lights on day and night and you have to sleep with a towel over your eyes. … How they would not let you know your attorney is on the phone. How you get paid dimes for work. … How visitation and recreation hours happen at the same time so you have to choose between seeing your family and getting some air. … I will keep taking notes about my experience and I will keep on collecting my cellmates' stories while I'm here."
May 3 is World Press Freedom Day. Manuel Duran and the other jailed journalists around the globe should be free to do their work, outside the prison walls that confine them today.
---