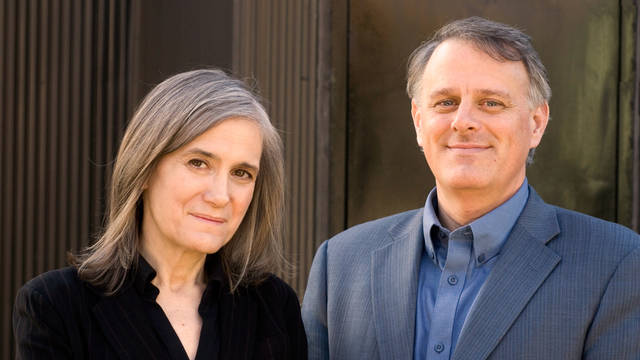 Media Options
By Amy Goodman and Denis Moynihan
"All governments lie," said legendary journalist I.F. Stone. He relentlessly reported on the powerful and the corrupt, and for almost 20 years, until his retirement in 1971, independently wrote I.F. Stone's Weekly, an acerbic and incisive publication that broke news regularly. He revealed how President Lyndon Johnson deceptively exploited the 1964 Tonkin Bay incident to escalate U.S. involvement in Vietnam. He produced some of the most impactful investigative reporting on the tobacco industry and the power it held over Congress. I.F. Stone's assertion that all governments lie has stood the test of time, and seems remarkably apt now, during the era of President Donald Trump, perhaps the most prodigious liar among all U.S. presidents. When the news media accurately reports on Trump's baldfaced lies, he attacks, calling the press "the enemy of the people." Members of the White House press corps, who are the principal recipients of Trump's constant pejoratives, increasingly express concern for their safety at Trump's many campaign-style rallies, where he revs up the crowd against them.
"I'm so proud of myself; I didn't call them the 'fake-news media,'" Trump said Monday at Fort Drum, in upstate New York. "I said to myself, I will not today, in front of our great armed forces, call them fake news. (Laughter.) We know the real truth, but we won't say it today." In bragging of his restraint, he twice labeled the media "fake news." Trump will not relent, and certainly will never change.
Trump relies on the news media to repeat, and thus amplify, his hateful messages. Several news channels have taken the important step of not carrying his rallies live, from start to finish. It was that shameful practice that delivered over $1 billion in free airtime to the Trump campaign. But his tweets must be reported. A court ruled them to be official White House statements, and they actually shape policies. The depth of his racism, his misogyny, his Islamophobia and his viciousness is as newsworthy as it is grotesque. This week he called Omarosa Manigault Newman, his fired, former top African-American woman staffer, "that dog." Earlier, he tweeted about an NBA basketball star who has just opened a new school: "Lebron James was just interviewed by the dumbest man on television, Don Lemon. He made Lebron look smart, which isn't easy to do." Both men are African-American, as is respected Congressmember Maxine Waters, whom Trump called "an extraordinarily low IQ person." He not only insults African-Americans, but all of us in the process.
The best reply to Trump's hostility to the press is more investigative reporting. One problem is that obsessive speculation about the progress of special counsel Robert Mueller's investigation into Trump and Russian election meddling crowds out other vital stories.
Take that Fort Drum event, for example. Trump was there to ceremoniously sign the National Defense Authorization Act, and he was roundly criticized in the media for failing to mention Sen. John McCain, after whom the bill was named. McCain has been one of Trump's most vocal Republican critics, and now is suffering advanced brain cancer. Trump's omission was considered offensive and petty, reminiscent of how in 2016 he insulted McCain's military service in Vietnam, saying: "He's not a war hero. He's a war hero because he was captured? I like people that weren't captured."
But what about the sheer scale of the bipartisan defense bill that Trump signed? The $717 billion of public funds committed to weaponry and war is the largest defense authorization in history. As Republicans attempt to shrink or eliminate so-called entitlements like Social Security and Medicaid, reporting on this unprecedented military budget should be at forefront of every newscast and above the fold on every newspaper.
The U.S.-backed Saudi-led war in Yemen is a story that demands daily reporting, but never receives it. Just this week, a school bus was bombed, with U.S. bombs, U.S. refueling of the bombers and U.S. logistics support. Fifty people were killed, 40 of them schoolchildren. Over 1 million Yemeni children are on the brink of starvation; many have starved to death already. Over 18 million Yemenis are hungry, and over 1 million have contracted cholera. It is the largest humanitarian crisis on the planet, yet we hear almost nothing about it.
Climate change deserves constant coverage. Sure, our climate change-denying president has called it a Chinese hoax. The news media must aggressively report on this global threat, especially the connection between climate change and extreme weather, like the forest fires consuming so much of California.
Donald Trump's attacks on the free press, a vital cornerstone of our democracy, are despicable. More reporting, in the tradition of I.F. Stone, is the best remedy.
---