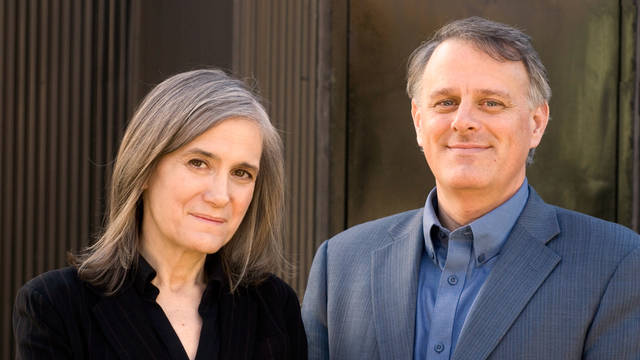 Media Options
by Amy Goodman and Denis Moynihan
On Nov. 8, 2016, Crystal Mason, an African-American mother of three, went to the polls and voted. Hers was a provisional ballot, however, as she hadn't been to her polling place near Fort Worth, Texas, for several years. She had been in prison for tax-related offenses, and was under federal supervised release. "I went to the local church, where I went before I went to prison, to vote," she said on the "Democracy Now!" news hour. "When they looked on the roster, they realized my name wasn't there … when I got ready to walk away, they stopped me and they told me, 'Hey, you can fill out a provisional ballot. … If you're at the right location, it will count. And if you're not, it won't.' I didn't see any harm with that. So the lady sat me down and helped me out with it."
What Crystal didn't know was that in Texas, you can't vote while on parole or supervised release. What happened next is hard to believe. She was charged with voter fraud, convicted and sentenced to five years in prison. On top of that shock, a federal judge ruled that because she violated the terms of her supervised release — for voting in Texas — she must spend an additional 10 months in federal prison, on top of the five-year state sentence that she is appealing.
"There is absolutely no reason Crystal should have been prosecuted," Kim Cole, Mason's attorney, said on "Democracy Now!" "She was not aware that she was not eligible to vote." Provisional ballots exist precisely for people who are uncertain about their eligibility to vote. They allow a person to vote — provisionally — until election officials can check, after election day, whether the voter was eligible or not. If not, the ballot is not counted. It's that simple.
Texas state law is clear: A person can only be convicted of voter fraud if he or she intended to commit the offense. Crystal Mason clearly did not. Kim Cole stressed the point, saying, "Her supervised release officer testified on the stand that he did not tell Crystal that she was not eligible to vote." Cole added: "Tarrant County is very proud to be the largest urban red county in the country. And they [the local Republican Party] want to keep it that way."
According to The Sentencing Project, felony disenfranchisement prevents over 6 million people from voting in the U.S. These laws vary from state to state. In Vermont and Maine, for example, convicted felons can vote from jail. Maryland, Connecticut and Rhode Island now permit people on probation and/or parole to vote.
Compare Crystal Mason's case with that of Terri Lynn Rote, a white woman in Iowa who was convicted of voter fraud for trying to vote for President Donald Trump twice. Rote was sentenced to two years' probation and fined $750. Felony disenfranchisement disproportionately impacts communities of color, preventing 1 in 13 African-Americans in the U.S. from voting, compared with 1 in 56 for non-African-Americans. Latinos also are disproportionately impacted, although statistics are not as readily available.
"There's a growing movement to reconsider these policies," Marc Mauer, executive director of The Sentencing Project, said on "Democracy Now!" In Florida, for example, over 1.4 million convicted felons have been permanently stripped of their right to vote. Donald Trump won Florida by just 112,000 votes, a mere 1.2 percent of the total vote. Given that African-Americans vote Democratic by very large margins, it is no surprise that Republicans support laws that increasingly restrict African-American voter turnout. Voters in Florida will have a chance to change the law this year, with a ballot initiative, Amendment 4, driven by "returning citizens," as the Florida Rights Restoration Coalition calls formerly incarcerated people. If it passes, all formerly incarcerated felons, excluding those who have committed murder or a felony sexual assault, will regain the right to vote.
Crystal Mason is appealing her voter-fraud conviction, for which she has been sentenced to five years in prison. Despite this, she must turn herself in to federal authorities by Sept. 13 to begin her 10-month sentence, after which she will resume 26 months of supervised release. When asked on "Democracy Now!" if she ever planned to vote again, she replied: "I do. I do. And that's what I'm encouraging my kids, to get out there so we can make a difference right now."
---