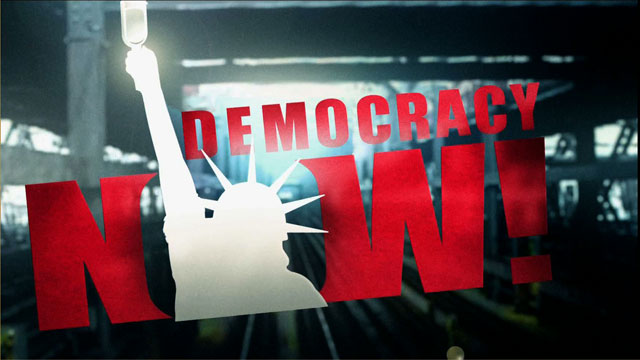 Media Options
---
Guests
Salih Mahmoud Osman

internationally recognized human rights lawyer from Darfur, Sudan. He has defended victims of arbitrary detention and torture by the Sudanese state for over 20 years.
On August 6, 1945 — 52 years ago — the United States dropped the first atomic bomb, killing an estimated 140,000 people in the city of Hiroshima, Japan. Today in Hiroshima, tens of thousands of people gathered in the city's Peace Park to remember those who died and to call for a nuclear-free world.
This year's Hiroshima anniversary comes in the midst of renewed controversy over the United States nuclear weapons program both past, present and future. The National Cancer Institute said last week that atmospheric nuclear bomb tests in Nevada from 1951 to 1962 exposed millions of American children to large amounts of radioactive iodine, a component of fallout that can affect the thyroid gland. The releases were far larger than earlier estimates, and at least ten times larger than those caused by the 1986 explosion at the Chernobyl nuclear plant in the Ukraine. Added to those new revelations has been the ongoing controversy over continued nuclear weapons testing in the Nevada desert and the use of plutonium in the upcoming NASA Cassini probe. Guests: • Dr. Michio Kaku, a professor of theoretical physics at the City University of New York and the best-selling author of Hyperspace: A Scientific Odyssey Through Parallel Universes, Time Warps, and the 10th Dimension. Dr. Kaku is a Japanese-American whose parents were interned in concentration camps during World War II. He was a protege of Edward Teller, the main scientist behind the development of the H-bomb. But he has since become a leading scientific opponent of nuclear weapons and the arms build- up. Taped Excerpts: • A radio documentary on Hiroshima produced by Dr. Michio Kaku in 1995, the 50th anniversary of the A-bomb attack on Japan. The piece includes interviews with Manhattan project scientists Dr. Philip Morrison and Ted Taylor, as well as a discussion with the mayor of Hiroshima.
---