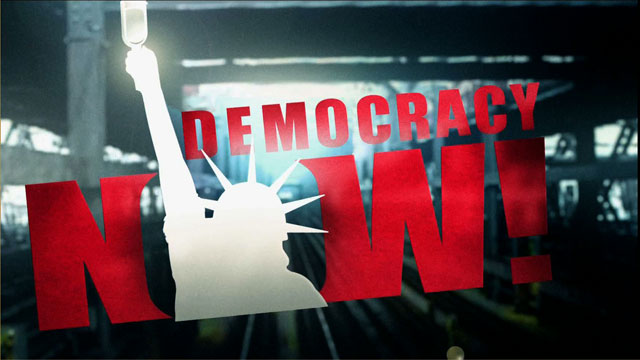 Media Options
Days after disappearing, the rebel leader Foday Sankoh of Sierra Leone was captured yesterday by pro-government forces, who shot him in the leg, stripped him naked, and turned him over to government officials. [includes rush transcript]
Guest:
Abdul Rahman Lamin, is spokesperson for the Coalition for Democracy in Sierra Leone
---
Transcript
This is a rush transcript. Copy may not be in its final form.
AMY GOODMAN:
Days after disappearing, the rebel leader, whose followers burned, looted, maimed and killed across Sierra Leone, was captured yesterday by pro-government forces who shot him in the leg, stripped him naked, and turned him over to government officials. The seizure of Foday Sankoh, whose Revolutionary United Front has terrorized civilians, prompted joyous celebrations in the streets of Freetown, where thousands have died during eight years of civil war. Questions remain whether Sankoh's capture would speed an end to Sierra Leone's reignited civil war or spur his Revolutionary United Front followers to even more violence.
Human Rights Watch yesterday urged a fair trial for Sankoh, even by an international tribunal, saying he shouldn't be subjected to mob rule despite extensive evidence of involvement in crimes against humanity.

Meanwhile, despite the uncertainty surrounding the future of Sierra Leone's peace process, Britain has proposed expanding the size of the besieged UN peacekeeping force to 13,000 to accommodate new troops.


We're joined on the phone right now by Abdul Rahman Lamin of the Coalition for Democracy in Sierra Leone. He's currently a graduate student in Washington, DC.

Welcome to Democracy Now!, Abdul Rahman Lamin.


ABDUL RAHMAN LAMIN:
Thank you for having me, Amy.
AMY GOODMAN:
What is your response to the latest news of Foday Sankoh captured, taken through the streets naked, and shot?
ABDUL RAHMAN LAMIN:
Well, I think, first of all, it's welcome news to hear that Foday Sankoh has finally been located and captured. Now, the fact that he was paraded around the streets naked, you know, is something I personally would say he deserved. I think the government moved very fast, though, to try to prevent any mob action from taking place. And I think that is welcome, too.
Now, as you said in your setup piece, his capture raises more questions than answers, obviously, and that is why I think there has to be a very serious discussion now, especially in the international community, on what happens to Foday Sankoh next. Now, I can tell you what Sierra Leoneans would like to see not happen in this circumstance. As you know, the RUF is still holding over 200 UN peacekeepers, and we would insist that the capture of Foday Sankoh should not be used as a bargaining chip to free those hostages. The RUF must be told in certain terms by the international community that it must release the UN hostages it is holding unconditionally and unharmed. The arrest of Foday Sankoh cannot be linked to the release of those hostages. That is something that has to be very, very clear. But beyond that, I think now there is a responsibility on the part of the international community, specifically the United Nations, to institute proceedings to have Foday Sankoh tried as an international war criminal.


AMY GOODMAN:
Abdul Rahman Lamin, what about the British paratroopers in Sierra Leone who killed three members, I think, of the RUF and also wounded a civilian? Is this of concern to you?
ABDUL RAHMAN LAMIN:
Well, we're obviously concerned about any violence in our country, certainly. But again, you know, it's our information that the British forces were attacked by the rebels, you know, who ostensibly were reacting to the arrest of Foday Sankoh. We are going to have these kinds of situations. But I think the firmer we take a stance as a community of nations around the world and send a clear message to the RUF that their [inaudible] will not be tolerated, the better, you know, we would be in a way of putting Sierra Leone back to the road to peace.
So, sure, it's a concern, but again, you know, it has to be looked at from the standpoint of an organization which has clearly been given an opportunity way beyond what it deserves but still continues to create problems. And I think now is the time to stand tough and say to the RUF that they will no longer get away with what they've been doing for the last ten years.
AMY GOODMAN:
I want to thank you very much for being with us Abdul Rahman Lamin, a student in Washington, DC, grad student, of the Coalition for Democracy in Sierra Leone. And we will certainly continue to follow that story.