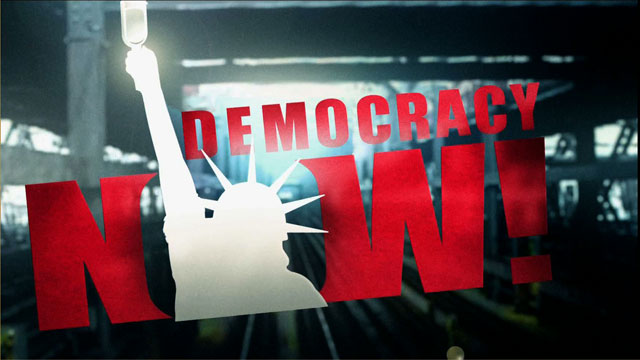 Media Options
Yesterday in Columbus Georgia 26 people, including an 88 year old nun and a senior NASA research scientist, werefound guilty in Federal District Court of criminal trespass for protesting at the US Army School of the Americas atFort Benning.
Jack Gilroy, a retired New York school teacher who spoke to Democracy Now last Friday, was taken immediately intocustody to begin serving six months in Federal Prison, one of twenty-four protesters who received sentences rangingfrom 30 days to one year in federal prison, with twenty receiving six months.
More than 3400 people trespassed onto the base last November to demand the closing of the school, recently renamedthe Western Hemispheric Institute for Security Cooperation.
Tape:
Vieques news conference, New York politicians Fernando Ferrer and Peter Vallone, Jose Rivera's son and daughter.
Guest:
Gwen Hennessy, Franciscan nun and peace worker, age 68, sentenced to 6 months in prison.
Related link:
---