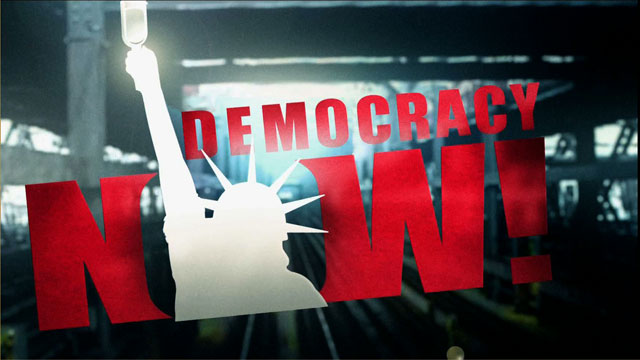 Media Options
In our continuing series on Art and Revolution, we will complete our interview with Ariel Dorfman, the acclaimedChilean novelist, playwright and activist.
Ariel Dorfman was born in Argentina in 1942, attended grade school in New York City and then moved to Chile, where hebecame a citizen. There he became a close ally of President Salvador Allende. He was forced to leave the country in1973 after the coup.
Today we will talk about his new book, ??Blake's Therapy, where he confronts the implications of globalizationand the culture of voyeurism. In order to write his book, Dorfman actually attended the World Economic Forum inDavos, Switzerland, a meeting of global economic and political leaders.
This book is being released simultaneously in Spanish and English. The protagonist is Graham Blake, who owns CleanEarth, Inc., a company that manufactures vitamins and herbal remedies, and has branched out into eco-tourism. Itsstocks have soared, and it is called the company that saved the rainforest. But we'll let Ariel Dorfman tell it.
Guest:
Ariel Dorfman, author of numerous plays, books and short stories, including ??Death and the Maidenand ??Speak Truth to Power: Voices from Beyond the Dark. Recently he delivered the keynote address at the WorldSocial Forum in Porto Alegre, Brazil. He is currently a professor at Duke University, and has just come out with anew book, ??Blake's Therapy, published by Seven Stories Press.
????
??????
??????
??????
??????
---