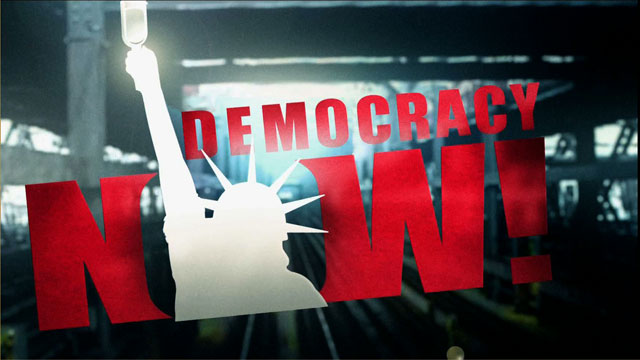 Democracy Now! correspondent, Sharif Abdel Kouddous profiles renowned Syrian human rights lawyer, Haitham al-Maleh, for The Nation magazine. Below is an excerpt from A Lifetime of Resistance in Syria.
Haitham al-Maleh, an 81-year-old Syrian human rights lawyer, has spent most of his life struggling against autocracy in Syria and the last forty years battling the iron-fisted rule of Bashar al-Assad and his father before him, Hafez al-Assad.
"I will live to see the Assad regime fall, just as sure as we are sitting here together," Maleh said in an interview on a recent visit to Cairo. Tall, with a thick, white goatee, large aquiline nose and an easy confidence, Maleh speaks in a lively manner that belies his years.
His life story is one of relentless resistance to government repression in Syria.
Maleh was first arrested in 1951, at the age of 20, and held for three weeks, after he spoke out as a young lawyer calling for an independent judiciary. Undeterred, he continued to practice law, eventually rising to become a judge. In 1966, he was forced off the bench by the ruling Baath party for his vocal opposition to emergency laws that had had been put in place three years earlier, which effectively suspended most constitutional protections for citizens.
During the 1950s and '60s, power in Syria continued to change hands through a series of coups and counter-coups until Hafez al-Assad seized control in 1970.
After losing his judgeship, Maleh continued his work as a human rights attorney throughout the 1970s, emerging as a leading reform advocate within the Lawyers Bar Association. In 1978, he, along with several colleagues, drafted a document demanding a number of constitutional reforms, the lifting of the emergency laws and the release of all political prisoners as part of a move towards freedom, plurality and human rights in Syria. It wasn't long before other professional groups signed on, including the engineers', doctors' and teachers' associations. The movement continued to gain support, culminating in a mass one-day strike in March 1980.
The Assad regime responded by cracking down hard. The government dissolved the professional trade unions, arrested hundreds of their members and issued a law to place all professional associations under Baath party rule. Maleh was among those arrested in early 1980. He was thrown in prison without charge or trial and spent the next seven years behind bars, according to Maleh, by the personal order of Hafez al-Assad himself. "This is a country ruled by orders, not by law," he says.
See Democracy Now!'s Recent Coverage of the Syrian Conflict
---