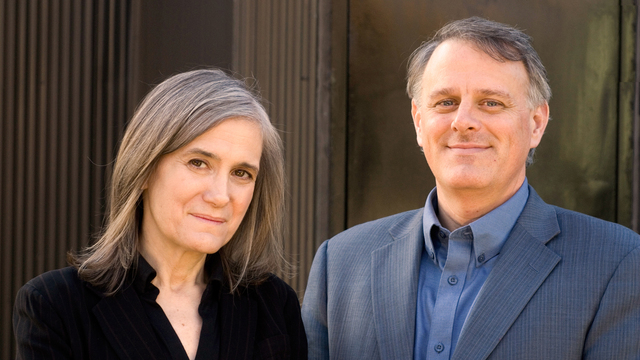 Media Options
By Amy Goodman with Denis Moynihan
As the election season heats up, an increasing number of states are working to limit the number of people who are allowed to vote. Already we have a shamefully low percentage of those eligible to vote actually participating. Florida, a key swing state, is preparing for the Republican National Convention, five days of pomp promoted as a celebration of democracy. While throwing this party, Florida Republican Gov. Rick Scott, along with his secretary of state, Ken Detzner, are systematically throwing people off the voter rolls, based on flawed, outdated Florida state databases.
Many eligible Florida voters recently received a letter saying they were removed and had limited time to prove their citizenship. Hundreds of cases emerged where people with long-standing U.S. citizenship were being purged. According to the American Civil Liberties Union of Florida, "of those singled out to prove their citizenship, 61 percent are Hispanic when only 14 percent of registered Florida voters are Hispanic," suggesting an attempt to purge Latinos, who tend to vote Democratic. Recall the year 2000, when then-Florida Secretary of State Katherine Harris systematically purged African-Americans from voter rolls. The U.S. Justice Department has ordered Detzner to stop the purge, but he and Gov. Scott promise to continue. The Justice Department has sued the state in federal court, as have the ACLU and other groups.
For Georgia Congressman John Lewis, efforts to limit access to vote are not just bureaucratic. "It is unreal, it is unbelievable, that at this time in our history, 40 years after the Voting Rights Act was signed and passed into law, that we're trying to go backward. I think there is a systematic, deliberate attack on the part of so many of these states, not just Florida, but it's all across the country. … Some people were beaten, shot and murdered trying to help people become registered voters. I can never forget the three civil-rights workers that were murdered in the state of Mississippi on the night of June 21, 1964," he said, recalling the murder of James Chaney, Andrew Goodman and Michael Schwerner, killed while registering African-Americans to vote.
Back in 1961, Lewis, just 21 years old, was a leader of the Freedom Rides, testing new federal laws banning segregation in interstate travel. He and many others were severely beaten when their buses crossed state lines into the Deep South. He sat down at segregated lunch counters, and joined the Student Nonviolent Coordinating Committee, soon rising to chair the organization. He told me about a pivotal moment in his life, and this nation's history, the march over the Edmund Pettus Bridge:
"On March 7, 1965, a group of us tried to march from Selma to Montgomery, Alabama, to dramatize to the nation that people wanted to vote. One young African-American man had been shot and killed a few days earlier, in an adjoining county, called Perry County. Because of what happened to him we made a decision to march. In Selma, Alabama, in 1965, only 2.1 percent of blacks of voting age were registered to vote. The only place you could attempt to register was to go down to the courthouse, you had to pass a so-called literacy test."
---