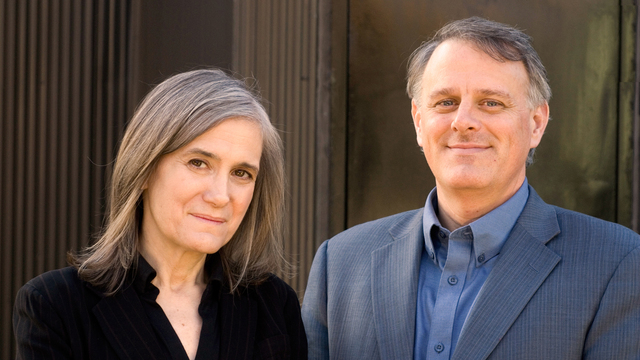 Media Options
By Amy Goodman with Denis Moynihan
Tomas Young was in the fifth day of his first deployment to Iraq when he was struck by a sniper's bullet in Baghdad's Sadr City. The single bullet paralyzed him from the chest down, and changed his life forever. Now, nine years later, at the age of 33, Tomas has decided to end his life. He announced recently that he will soon stop his nourishment, which comes in the form of liquid through a feeding tube.
Tomas was the subject of the award-winning documentary "Body of War," made by legendary TV talk-show host Phil Donahue and Ellen Spiro. The 2007 film follows Tomas' rehabilitation, struggles with his injuries and his political awakening to become one of the most prominent anti-war U.S. veterans of the invasion and occupation of Iraq. He was first moved to action by the efforts of Cindy Sheehan to speak with President George W. Bush while he was on vacation at his so-called ranch in Crawford, Texas. Sheehan's son, Casey, was killed in Baghdad, on the same day that Tomas was shot. She wanted to ask Pres. Bush, "For what noble cause did my son die?"
I asked Tomas if anything would change his mind about his decision to end his life. "No," he said, adding that if he were not in such intense, constant pain, then he would not be taking this course. "We wouldn't be having this conversation," he said.
This week, Tomas released a letter titled "The Last Letter: A Message to George W. Bush and Dick Cheney From a Dying Veteran."
In it, Tomas wrote, "You may evade justice but in our eyes you are each guilty of egregious war crimes, of plunder and, finally, of murder, including the murder of thousands of young Americans—my fellow veterans—whose future you stole."
Phil Donahue has stayed in touch with Tomas for years since making "Body of War." Donahue told me the making of the film was a "spiritual experience … a chapter of our lives." He says he understands Tomas' decision: "Four years after being shot in Sadr City, he sustained a pulmonary embolism. So he struggles now to speak, although you can understand him. He has difficulty grasping silverware, his opposable thumbs are at a serious deficit … so he has to be fed. When he and his wife, Claudia, have gone out to dinner, she would look for a corner of the restaurant, so when she fed him, they wouldn't be stared at. He now has pressure sores, with exposed bone. He recently had a colostomy, so he has a bag on the side of his body. He is fed through a tube, and every other commercial he sees on television is about food. It is beyond awful what Tomas has sustained. He now lies immobile, in a dark bedroom in Kansas City, dutifully cared for by his wife, Claudia, who has been with him for five years."
He added: "Throughout this whole ordeal, I have been with him often enough to know, he wanted to live. That is what makes it extra sad. He wanted to live. He has fought back against every setback, from the inadequate treatment at the Veterans Administration, to his own PTSD. Now the situation is so dire, that no one who is close to him can claim to not understand: He has given up."
Donahue reflected: "When I look down on this young man, all I can think of is President Bush saying, 'Bring 'em on.' There is almost no remorse. Everybody's hiding. Richard Perle doesn't get around much anymore. Cheney is speaking for six-figure fees. I don't know where Wolfowitz is. Bush is behind a well-secured home."
Tomas recently appeared via video call from his home in Kansas City, Mo., before a group in Ridgefield, Conn., where Phil Donahue screened "Body of War" and asked Tomas questions. It was at this February event that Tomas publicly announced his intention to die. When asked how he wants to be remembered, Tomas Young replied: "That I fought as hard as I could to keep young men and women away from military service. I fought as hard as I could to keep another me from coming back to Iraq. That is what I want to be remembered for."
Amy Goodman is the host of "Democracy Now!," a daily international TV/radio news hour airing on more than 1,000 stations in North America. She is the co-author of "The Silenced Majority," a New York Times best-seller.
© 2013 Amy Goodman
---