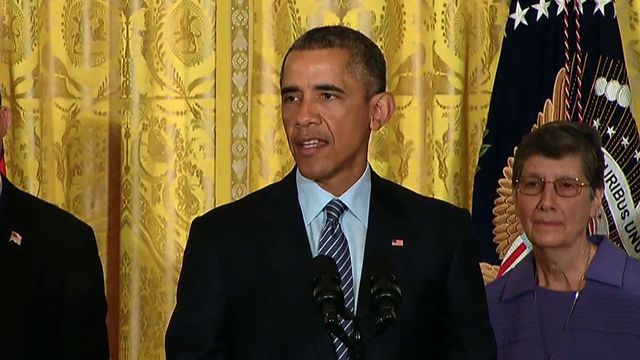 In a major victory for environmentalists, President Obama has rejected TransCanada's application to build the Keystone XL oil pipeline.
Climate activists including 350.org co-founder Bill McKibben praised Obama's decision.
"President Obama is the first world leader to reject a project because of its effect on the climate," McKibben said. "That gives him new stature as an environmental leader, and it eloquently confirms the five years and millions of hours of work that people of every kind put into this fight. We're still awfully sad about Keystone south and are well aware that the next president could undo all this, but this is a day of celebration."
This is a very good day everyone. A defeat for the Koch Bros, a win for people's movements. #NoKXL

— Naomi Klein (@NaomiAKlein) November 6, 2015
BREAKING: President Obama has REJECTED the Keystone XL tar sands pipeline! Victory! #noKXL pic.twitter.com/C5XxVvSK8d

— 350 dot org (@350) November 6, 2015
Over the past seven years, the Keystone project was opposed by a broad coalition, including environmentalists, indigenous activists, farmers and ranchers, concerned about both climate change and protecting their land.
"This is an extraordinary moment for grassroots activism and the fight against fossil fuels," said Friends of the Earth President Erich Pica. "For seven years, people from around the United States campaigned together to transform a previously routine decision to approve a pipeline into a leadership test on climate change."
The Keystone XL pipeline's primary function would have been to move oil from the tar sands region of Alberta, Canada to port facilities on the South Texas coast, for shipping to overseas customers.
Climate scientist James Hansen, former director of the NASA Goddard Institute for Space Studies, wrote in The New York Times, "If Canada proceeds, and we do nothing, it will be game over for the climate." Hansen is one of more than 1,200 people who were arrested in front of the White House, protesting Keystone XL.
Recent Democracy Now! coverage
Have Protests Killed the Keystone XL? TransCanada Asks U.S. for Delay in Face of Likely Rejection

---