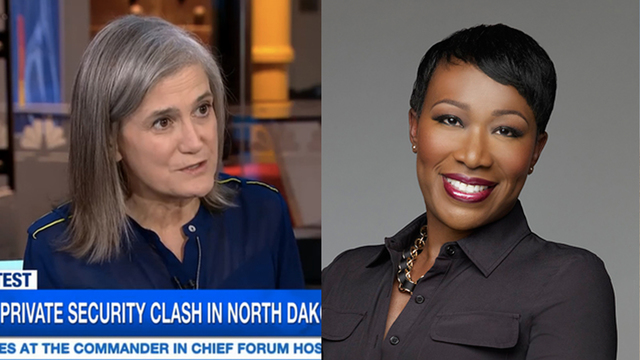 On Saturday, October 22, Amy Goodman appeared on Joy-Ann Reid's MSNBC program to discuss the Standoff at Standing Rock and give updates from North Dakota:
AMY GOODMAN: We interviewed David Archambault, who is the chair of the Standing Rock Sioux Tribe. Doctor Sara Jumping Eagle, who is the reservation pediatrician. Shailene Woodley, the famous actress. All of them arrested. Now, we're talking about on the lowest level misdemeanor charges.
Here's the chair of the tribe, who is brought into the Mandan prison and strip-searched. The reservation pediatrician, she is charged with disorderly conduct. She is strip-searched. Shailene Woodley, we all know who she is. And she is strip-searched.
We're talking about the humiliation of the people who are standing up here around an issue that we are dealing with all over this country: You know, a sustainable economy, how do we move forward on this planet?
And this practice of strip-searching, particularly the Native Americans, it's a total humiliation of a group of people who are simply demanding the same dignity as the people in Bismarck, and Mandan, and other places outside North Dakota.
Click here to watch the interview.
Goodman just returned from North Dakota, where on Monday District Judge John Grinsteiner refused to authorize "riot" charges against her for reporting for Democracy Now! on an attack against Native American-led anti-pipeline protesters on September 3. The judge did not find probable cause to justify the charges filed on Friday, October 14, by State's Attorney Ladd R. Erickson, which were presented after Erickson had withdrawn an earlier charge against Goodman of criminal trespass.
After the decision was announced, Goodman's attorneys Reed Brody and Tom Dickson joined her in speaking outside the Morton County Courthouse, where hundreds gathered to show support for more than a half-dozen water protectors who were facing charges related to the ongoing resistance to the $3.8 billion Dakota Access pipeline. Watch her remarks here.
Amy Goodman appeared on Joy-Ann Reid's show in September after Democracy Now! first reported on the clash between water protectors and the pipeline company. Click here to see the September interview.
---