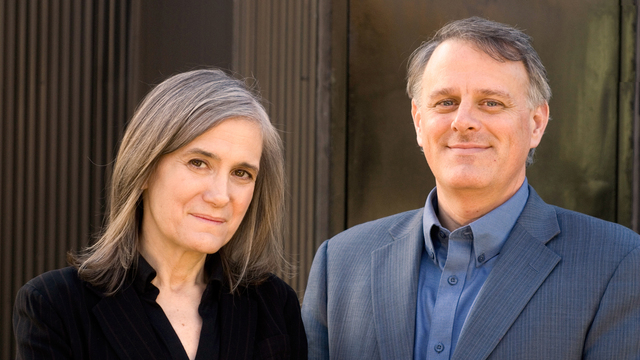 Media Options
By Amy Goodman & Denis Moynihan
Herstory was made this week. The U.S. Supreme Court settled a major battle over women's reproductive rights, overturning Texas's notorious anti-abortion law known as HB 2. The court's 5-3 decision in Whole Woman's Health v. Hellerstedt ruled that the Texas law violated the right of women to abortion access. HB 2 is one of scores of so-called TRAP laws that have proliferated around the country. "TRAP" stands for "Targeted Regulation of Abortion Providers." These laws are designed to close clinics by forcing them to make expensive renovations to their facilities, or requiring doctors to have admitting privileges to hospitals. TRAP laws inevitably lead to clinics closing down. Whole Woman's Health runs several clinics that provide abortion services in Texas, and decided to sue the state to challenge the law.
This significant legal victory was obtained not only in the chambers of the three women Supreme Court justices, Ruth Bader Ginsburg, Elena Kagan and Sonia Sotomayor, and their two male allies, Stephen Breyer and Anthony Kennedy. It was won through years of organizing at the grass-roots, in the media and in the halls of the Texas Legislature.
The law was passed in July 2013, amidst unprecedented controversy. On June 25, in the final day of a special session, the Texas Senate was slated to consider the bill. State Sen. Wendy Davis, a Fort Worth Democrat, donned comfortable pink running shoes and took the floor after 11 a.m. She began a filibuster, hoping to speak until midnight, when state law would compel the special session to end. Unlike in the U.S. Senate, in Texas, the senator must continue standing and speaking, alone. Even in the U.S. Senate, when a senator chooses to engage in the theatrical in-person filibuster, as Sen. Chris Murphy did recently after the Orlando massacre, the senator can get a respite when colleagues ask long, speechlike questions. But Wendy Davis spoke herself, nonstop, through the day, on topic. She could not spend time on unrelated topics, as Sen. Ted Cruz did during his filibuster in the U.S. Senate when he read Dr. Seuss' "Green Eggs and Ham" to fill time. The internet live stream of Davis' filibuster went viral. Thousands flocked to the Texas Statehouse in solidarity.
The Republican majority in the Texas Senate managed to rule Davis procedurally out of order at 10 p.m., thereby giving the senators a full two hours before midnight to pass HB 2. But by that time, thousands of people clogging the Capitol began chanting, "Hell no, we won't go!" The noise was so disruptive that the Senate was prevented from holding a roll call. A people's filibuster prevailed. Two weeks later, then-Gov. Rick Perry called another special legislative session, and the bill was passed.
Justice Stephen Breyer, in the court's majority opinion striking down HB 2, wrote, "[A]bortions taking place in an abortion facility are safe—indeed, safer than numerous procedures that take place outside hospitals and to which Texas does not apply its surgical-center requirements. … Nationwide, childbirth is 14 times more likely than abortion to result in death, but Texas law allows a midwife to oversee childbirth in the patient's own home." Breyer also noted that a colonoscopy, a procedure that typically takes place outside a hospital setting, has a mortality rate 10 times higher than an abortion. The mortality rate for liposuction is 28 times higher than abortion.
Stephanie Toti, 37, argued the case on behalf of Whole Woman's Health. She is a senior counsel at the Center for Reproductive Rights. When we asked her on "Democracy Now!" what it was like, both as a woman and as a first-timer before the Supreme Court, Stephanie Toti said: "The plaintiffs in this case, I think, felt strongly that they would like me to represent them in court. And I think it was meaningful to a lot of people to have a woman of reproductive age there at the court arguing this case."
From the plaintiff, Amy Hagstrom Miller, founder and CEO of Whole Woman's Health, who has been providing abortion care since 1989, to Stephanie Toti of the Center for Reproductive Rights, which has been representing women for almost a quarter-century, to the three women Supreme Court justices, an unprecedented number on the high court: movements matter. The struggle for women's rights has been waged for generations. With hundreds of anti-choice bills around the country, this landmark victory is cause for celebration, but not rest. As Amy Hagstrom Miller said in front of the Supreme Court, "A win doesn't mean the struggle is over."
---