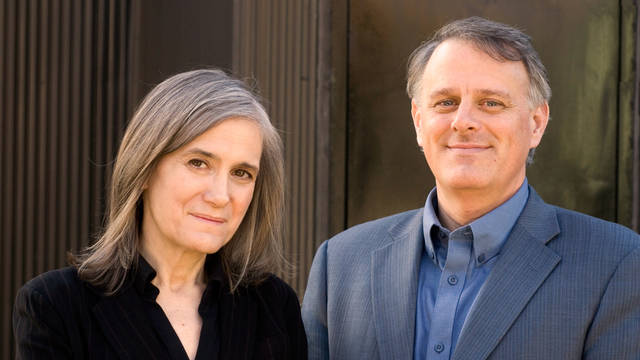 Media Options
By Amy Goodman & Denis Moynihan
March 8th, International Women's Day, arrived not a day too soon, as women, half the world's human population, still endure varying degrees of oppression, violence, inequality and discrimination. This day's living history is steeped in struggle and celebration; a day when women protest with courage and tenacity. From the Taliban to Texas, men wield words and weapons to subjugate women. Solidarity and action, to protect and liberate women, are needed now more than ever.
Systemic oppression of women may be worst in Afghanistan. Richard Bennett, the U.N. special rapporteur on human rights in Afghanistan, calls the Taliban's treatment of women "tantamount to gender apartheid." In an update to the UN Human Rights Council on March 6th, Bennett said, "The Taliban's intentional and calculated policy is to repudiate the human rights of women and girls and to erase them from public life…authorities can be held accountable."
That same day, in a remarkably brave protest, Afghan women held a "read-in": sitting on the ground outside Kabul University, they opened books and began reading, defying the Taliban's ban on education for women and girls.
"Those women who protested yesterday in Kabul know what they're facing…they might be killed," Zahra Nader said on the Democracy Now! news hour. She is an Afghan-Canadian journalist and editor-in-chief of Zan Times, a media outlet that covers human rights in Afghanistan. "They are still willing to take that risk, because that is what's going to bring them hope. This is a fight for them, to resist…even if that comes at the cost of their own lives."
Next to Afghanistan, in Iran, nationwide protests continue, sparked by the death of 22-year-old Mahsa Amini in police custody last September 16th. Amini was arrested by Iran's so-called morality police, accused of not wearing her hijab properly. The Iranian government has responded to the protests with a harsh crackdown, arresting thousands. Four men have been publicly executed so far, simply for protesting. Fourteen more face execution, according to Amnesty International.
Now, a wave of apparent poisonings has struck Iranian girls' schools. At least 290 schools have been targeted, affecting no less than 7,000 students.
"These horrific chemical attacks on girls' schools…have to be understood as a punishment against women and girls who have been leading this nationwide revolt for several months now," Manijeh Moradian, professor of women's, gender and sexuality studies at Barnard College said on Democracy Now! "In response, people have been protesting. The national teachers' union called for nationwide strikes, sit-ins and demonstrations. This is a nation in revolt."
March 8th is significant in modern Iranian history. The Iranian Revolution ousted the brutal U.S.-backed dictator, the Shah of Iran, in January, 1979. Millions of Iranians hoped for a democratic, secular future. Instead, the return from exile of Ayatollah Ruhollah Khomeini ushered in harsh, theocratic rule. On March 8th, 1979, Iranian women rose up in protest against the Ayatollah's new regime.
"Those women who poured into the streets on International Women's Day 43 years ago rightly understood that the enforcement of mandatory Islamic dress code, mandatory hijab, was part and parcel of the erosion of all of the democratic promises of the revolution," Professor Moradian explained. She went on to link this history to today:
"In Iranian Kurdistan, in Saqqez, the hometown of Mahsa Jina Amini, the teachers are on strike right now, defending the right of women and girls to education but also condemning the broader state repression and the economic crisis that's impoverishing ordinary people in Iran. Saqqez is where this uprising began in September, with the slogan 'Women, Life, Freedom,' – all about life and joy, [and] deeply connected to feminist movements and to International Women's Day."
Republican politicians in the U.S. decry the Taliban, including its treatment of women. But their apparent feminism only goes so far, as these legislators pass law after law attempting to control womens' bodies, restrict reproductive healthcare and criminalize abortion.
In Texas, five women have sued the state after they were unable to obtain an abortion to terminate life-threatening pregnancies. Four months into her pregnancy, plaintiff Amanda Zurawski's water broke. She needed an abortion, but couldn't find a Texas doctor willing to do it. She then developed sepsis, which could have killed her. She may never be able to give birth as a result. The imprisonment of women for miscarrying, as happens already in El Salvador and other countries, may be coming soon to red states in the U.S.
March 8th, International Women's Day, began as a socialist protest among striking mill workers in Lawrence, Massachusetts, demanding not only Bread, but Roses. Now, over a century later, in addition to Bread and Roses, women, gender non-conforming and trans and LGBTQ+ people are demanding education, bodily autonomy, equal pay and freedom from violence. The struggle continues.
---