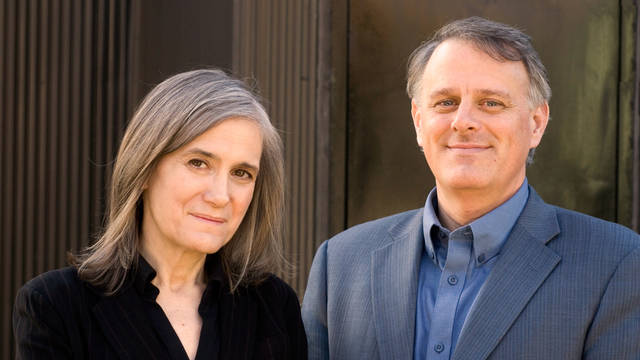 Media Options
By Amy Goodman & Denis Moynihan
Climate change-fueled drought and high winds created the perfect conditions for raging wildfires across the Hawaiiian island of Maui last week, burning the historic town of Lāhainā to the ground. As of Thursday, the death toll was 111, but that number is expected to go much higher as the difficult task of searching the acres of burnt wreckage slowly proceeds. The number of people killed by the massive conflagration could surpass 1,000. The fire struck on August 8th, not long after the hottest July in recorded human history, and just as a decision was issued in an historic climate trial that took place in Helena, Montana, over 3,000 miles away. There, 16 young Montanans, aged five to 22, were suing the State of Montana for violating their constitutional right to a "clean and healthful environment." After almost two and a half years of litigation, Montana Judge Kathy Seeley ruled in favor of the youth plaintiffs, declaring Montana law mandating aggressive promotion of fossil fuels at the expense of the climate was "unconstitutional on its face."
Vixay Phonxaylinkham, a tourist visiting Lāhainā, told Reuters while at a shelter on Maui,
"It got really real when we saw the flames, and I had to think fast. We had to get out. We left our vehicle. Myself and my wife and our five kids, we all got in the ocean. We found a floating board that we hung onto…It was just so surreal. Everything was burning around, explosions, cars blowing up, embers just flying. We couldn't breathe. There was no air."
Countless stories are emerging of people who ran towards the flames to save a family member, friend or pet, and perished in the wind-driven, 2,000 degree Fahrenheit wall of fire.
"I was born and raised in Maui. I'm Kānaka Maoli, Native Hawaiian, come from seven generations. And our island is on fire," Kaniela Ing, former member of the Hawai'i House of Representatives and now the national director of the Green New Deal Network, said on the Democracy Now! news hour. "Our most historic town was set ablaze by wildfires. Hundreds of people have been evacuated and hospitalized. The death toll is climbing, and people are searching for loved ones right now…We're a tropical island here on Maui. We're not supposed to have wildfires."
"Lahaina Town is often characterized as a tourist town, but the people who live there — which should be the focus — tend to be some of the most rooted Native Hawaiians that I've ever met," Kaniela Ing explained. "They're really the keepers of the ancestral knowledge…the fire is a tragic symbol of this trajectory's terminal point, like where it all ends up if you continue down this mode of extraction as a way to live."
Extraction was central to the case made by the Montana youths who prevailed at trial. In the same week that Judge Seeley issued her ruling, barring Montana from implementing its pro-fossil fuel laws, the state had 43 active wildfires, fanned by record-breaking triple-digit temperatures and high winds.
"Montana is one of the states in our country that has had laws on the books that requires it to promote fossil fuel energy and fossil fuel development at a time when we're in a climate emergency," Julia Olson, chief legal counsel and founder of Our Children's Trust, the non-profit law group representing the youth plaintiffs, said on Democracy Now! "Their laws also require them to ignore the consequences of that and the ways in which greenhouse gas emissions fuel the climate crisis. So, these young people used the Montana Constitution, which protects not just the right to a clean and healthful environment, but also the right to dignity, to health and safety and happiness and equal protection of the law."
Olson and Our Children's Trust have similar cases pending in other states, including in Hawai'i, and in the case known as Juliana v. United States.
"In 2015, we filed a case on behalf of 21 youth…against the federal government for its active role in causing the climate crisis," Olson said. "The Biden administration and the attorney general, Garland, and Solicitor General Prelogar are fighting tooth and nail, just like the Trump administration did, to stop this trial." In one of its most recent court filings in the Juliana case, as reported by Lever News, the Biden administration argued "there is no constitutional right to a stable climate system."
The youth plaintiffs of Montana, Hawai'i and elsewhere beg to differ, as do the Native Hawai'ians and residents of Maui. The climate crisis is not a looming threat; it is here now.
---