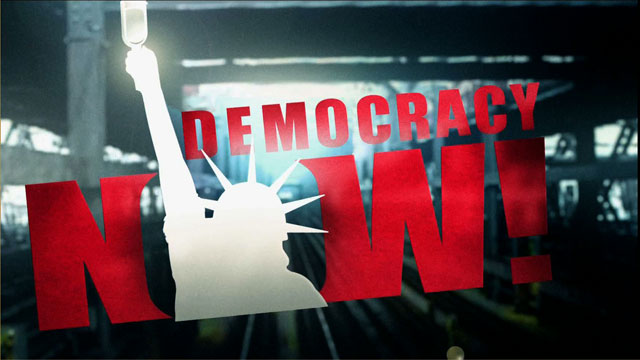 Media Options
Florida Governor Jeb Bush wants a former State Supreme Court justice to reveal the identities of inmates he believes may have been wrongly executed. Retired Justice Gerald Kogan, who served on the state's high court from 1986 to 1998, refused. He said that instead of interrogating him, state officials should be trying to make sure inmates who say they are innocent get access to DNA evidence. And Kogan also said that the governor's office needs to start looking at the 84 cases nationwide where people have been released from death row because of DNA evidence. [includes rush transcript]
The governor's request comes amid a decision by Illinois Gov. George Ryan to put a moratorium on executions. Well, Jeb Bush's brother, Texas Governor George W. Bush, was recently asked if he would consider a death penalty moratorium in Texas. He refused, claiming that the guilt of all death penalty cases that pass his desk have been proven.
Well, tonight, another execution is scheduled in Texas. Odell Barnes is slated to die, and there are serious questions being raised about his murder conviction.
Guest:
Mike Charlton, attorney for Odell Barnes. Call Governor George W. Bush: 512.463.2000.
---
Transcript
This is a rush transcript. Copy may not be in its final form.
JUAN GONZALEZ: George Bush apparently is still trying to beat back the furor over his visit to Bob Jones University in South Carolina. He even wrote a letter to the Cardinal of New York, Cardinal O'Connor, expressing regret over the visit. Unfortunately, even that has been considered by many people a little opportunistic. Since the Cardinal has been so ill of late, he's hardly working at all. And one of the other Catholic bishops here in New York, Bishop Daily of Brooklyn, responded, "Hey, Bob Jones is not that big a deal. What about your policy on execution? Why don't you do something about that?" And so, the Bishop of Brooklyn had a few words for George Bush.
AMY GOODMAN: And speaking of executions, Odell Barnes is scheduled to be executed tonight in Texas, and it brings up — it goes to the case his lawyers are trying to bring around innocence.
We're going to talk about that in a minute, but in a summary of other news this week, on Monday some 350 protesters were arrested outside federal court buildings in Washington and San Francisco. Police arrested 185 people outside the Supreme Court, another 164 people outside the Federal Appeals Court in San Francisco. These demonstrators were calling for an end to capital punishment and a new trial for Mumia Abu-Jamal, the prisoner on death row in Pennsylvania, a black journalist, who, well, actually, was just on Democracy Now! on Monday talking about the Diallo case, as well as his own and where it stands today. These protests have not gotten a lot of attention in the mainstream media. That's a lot of numbers, 350 people.
JUAN GONZALEZ: Yes, and I'm sure it's going to continue to grow, because increasingly the public discontent in many sectors of American society with the continued use of the death penalty is beginning to come to the fore now.
AMY GOODMAN: And speaking of the death penalty, some call what happened to Amadou Diallo the "unofficial death penalty," but there are many who are deeply, deeply disturbed by the verdict that came down in Albany, New York, last week, and so people are boarding buses from New Jersey and New York and from other areas tomorrow, and they're heading to Washington, D.C. The Reverend Al Sharpton, as well as Harlem Congressmember Charles Rangel, will be going to the Justice Department to call for a review of the case, to call for the federal government to intervene and do what they did in the Rodney King case, and that is bring a federal civil rights prosecution.
JUAN GONZALEZ: Yes, although I don't think that — my sense is that there's not going to be a lot of progress on that front in this particular case. I'm sure the Justice Department will look at it, but I doubt whether they're actually going to take action on this particular case.
AMY GOODMAN: Juan, you wrote a very good piece in the Daily News yesterday, "Carry Wrong Wallet? Not on Your Life," and in a little while I'm going to ask you to read a part of it. But before we do that, we're going to go now to Texas. But first, a related state, and that is Florida.
Florida Governor Jeb Bush wants a former State Supreme Court justice to reveal the identities of inmates he believes may have been wrongly executed. Retired Justice Gerald Kogan, who served on the state's high court from 1986 to 1998, refused. He said that instead of interrogating him, Florida state officials should be trying to make sure inmates who say they're innocent get access to DNA evidence. And Kogan also says that the Governor's office needs to start looking at the 84 cases nationwide where people have been released from death row because of DNA evidence.
Well, the Governor's request comes amid a decision by Illinois Governor George Ryan to put a moratorium on executions. Well, Jeb Bush's brother, Texas Governor George W. Bush, was recently asked if he would consider a death penalty moratorium in Texas. He has refused, claiming that the guilt of all death penalty cases that pass his desk has been proven.
Well, tonight, another execution is scheduled in Texas. George Bush has presided over more executions than any governor in U.S. history. Odell Barnes is slated to die tonight, 6:00 Texas time, and there are serious questions being raised about his murder conviction.
We go now to his attorney, Mike Charlton.
Welcome to Democracy Now!
MIKE CHARLTON: Thank you, Amy. I appreciate you having me on.
AMY GOODMAN: Well, can you discuss the case? What is your case for innocence, and why now? Why in the hours before your client Odell Barnes's execution?
MIKE CHARLTON: Well, there are a number of questions about his guilt, the most profound of which relate to scientific testing, which demonstrated that the forensic evidence that was used to convict him was probably planted by the police, and the other forensic evidence indicated that most of the circumstances of the state's case against Odell Barnes were simply false.
AMY GOODMAN: If anyone were to just hear about the case in a sentence from the mainstream media, they would hear this: Odell Barnes was convicted on this evidence. It was a woman who was murdered. She was 42 years old. She had his semen in her. He had her blood on his pants, and there were fingerprints in the apartment. People would draw some pretty firm conclusions. Can you deal with those three points?
MIKE CHARLTON: Certainly. The fingerprint issue, the state's evidence was that Mrs. Bass, the victim, had just purchased this lamp, where the fingerprint was found, and that the lamp was used to hit her over the head, to crush her skull, and that therefore because Odell's prints were found on that lamp and she had only had that lamp for a few days, therefore he had to have been there at the time of the murder. Actually, as it turned out, her son, Corey Bass, signed an affidavit for us that said that, no, in fact his mother had owned that lamp for a number of years, that Odell Barnes was a good friend of the family. He had been in and out of her home many, many times. He had done repair work on her home. And there is — his fingerprints could easily have been placed on there at a much, much earlier time, and probably were placed on there at a much, much earlier time.
The semen, as it turned out, Odell Barnes had always insisted with his first lawyers, and really from day one of his arrest, that his relationship with Mrs. Bass was both consensual and intimate, that he did not rape her. The tests on the semen, which were readily available and easily available to lawyers at the time of his trial, established that fact, that the intercourse had to have occurred hours, if not days, before her murder. It was unrelated to her murder, and that's what he had always said, that two or three days before her murder, that he had been to her house and that he had slept with her.
The blood evidence that was found — the crime scene indicated that whoever committed the murder would probably have been covered with blood, and that's what the police told the judge in Wichita Falls when they asked for a search warrant for Odell's home. They found coveralls, which were not covered with blood, but which they said later had two dime-size spots of blood on them. One of those spots of blood was later identified by DNA testing to belong to Mrs. Bass. And when we went back and did additional testing, we found out that it contained 40 times the level of citric acid that's normally found in the human body, and that level of citric acid is consistent with coming from a yellow-top test tube. In other words, the police, or someone in law enforcement, took a test tube of the victim's blood and put some of that on Odell Barnes' coveralls.
JUAN GONZALEZ: And why would you think that they would want to do that?
MIKE CHARLTON: Because at the time they did that, they didn't have a very strong case against Mr. Barnes. All they had were some witnesses who provided circumstances that were peripheral to the case, that could go to establish guilt, but these witnesses were not very good witnesses. They were not very credible people. And so, they needed some serology evidence, some sort of scientific or forensic evidence, which linked Odell to the crime, and I think that's why they did it.
It was consistent with the way that they conducted their crime scene investigation, because that investigation was terribly, terribly sloppy. The police themselves have admitted to us, later, that they really did no real crime scene investigation, that they use — now use Odell Barnes' case as an example of how not to conduct a crime scene investigation. So they really had little or no forensic evidence which linked him to the crime, and I think they needed that blood to do it.
JUAN GONZALEZ: Now, in what county of Texas did this occur?
MIKE CHARLTON: Wichita County.
JUAN GONZALEZ: In Wichita. And in his — obviously he must have had appeals where some of these issues were reviewed by appellate courts.
MIKE CHARLTON: No, in fact, he didn't, and that's really one of the reasons why Mr. Barnes' case is sort of symptomatic of our problem in Texas. We have for years argued that Texas death row inmates get little or no decent representation, and that was the case with Odell. His lawyers really conducted no investigation, and even though they were given the funds by the trial judge to do it, they hired nobody to analyze the scientific evidence. They really did no investigation for the witnesses. Had they done so, they would have been, I think, able to easily point the finger at the real culprits in the case.
His appeal reflected very few issues that were raised at the trial, and then when it went into state habeas corpus, his lawyer in state habeas corpus didn't do any investigation either, even though his investigator begged him to conduct a guilt-innocence investigation, as she was certain that she could prove that Odell was innocent. The lawyer basically told her, "No, I think Odell's guilty, and we'll just go do something else. We're going to go on and focus on other issues." So that by the time that Gary Taylor, Phil Wischkaemper and I got involved in this case, all these other issues had been raised, and there was little or nothing left to do. I mean, they had basically left us with very few issues to raise. We largely did this guilt — the federal courts would not allow us to have the funds to do the investigation into guilt-innocence, and we largely conducted that with the assistance of the French citizenry.
AMY GOODMAN: We're talking to Mike Charlton, who's the attorney for Odell Barnes. Now, this case has gone international, Mike Charlton. The French Prime Minister, Jacques Chirac, contacted Governor Bush a few days ago asking for clemency for Odell. Why Chirac?
MIKE CHARLTON: Well, it has — the case has captured the imagination of the French people, and they have taken up Odell's cause very aggressively. I think they are, as with anyone who looks at Odell's case, outraged at the refusal of Texas courts to either provide a fair trial or to even take a serious look at the evidence that's been generated since then. Almost all of the funds with which to investigate the case, to pay for investigators and scientific evidence — or scientific inquiry — all of that came from French citizens, just in donations. And I think they're just outraged that it could go like this far, without anyone taking a look at the evidence, or seeming not to care.
AMY GOODMAN: So what happens? We're talking about, oh, a nine-hour period right now. What chances do you have? Yesterday what, the parole board denied your last-minute appeal?
MIKE CHARLTON: Right. We were denied by the Texas Board of Pardons and Paroles, 18 to nothing. The Texas courts have refused to look at the evidence. The Fifth Circuit Court of Appeals in New Orleans has refused to look at the evidence. And now the case rests with the United States Supreme Court. They've got to either grant a stay or — a stay of execution, or at 6:00 this evening, Odell Barnes will be executed, and he will be an innocent man executed for a crime that he did not commit.
AMY GOODMAN: And is there anything last minute you'll be doing?
MIKE CHARLTON: No. I mean, I think all of the legal documents have been filed. We have gone to every agency that has the power to stop the execution. We've made all the arguments we can possibly make. We've presented affidavits of witnesses. We've presented the lab reports. We've done everything we possibly can, and we just have to hope that there is some judge that will listen to this case and decide that there is enough there to at least give him a hearing, where the evidence can be heard. And that's the sad part about it is, is that if all this evidence has been generated on behalf of Odell Barnes, no one will even give him a hearing to attempt to prove this.
AMY GOODMAN: Well, I want to thank you, Mike Charlton, for being with us, attorney for Odell Barnes, scheduled to die at 6:00 tonight. George Bush has said if there are any cases of innocence, he would look at them, but he thinks all people who he is signing death warrants for are guilty. Do you have George Bush's phone number?
MIKE CHARLTON: Yes, it's area code (512) 463-2000. And there is not much doubt, if Mr. Barnes is executed, that Governor Bush's claim about he's reviewed these cases is just simply false.
AMY GOODMAN: Thanks for being with us.
MIKE CHARLTON: Thank you for having me on.
AMY GOODMAN: And you are listening to Pacifica Radio's Democracy Now! Again, the Governor's number — that's George W. Bush, Republican presidential aspirant — is (512) 463-2000.