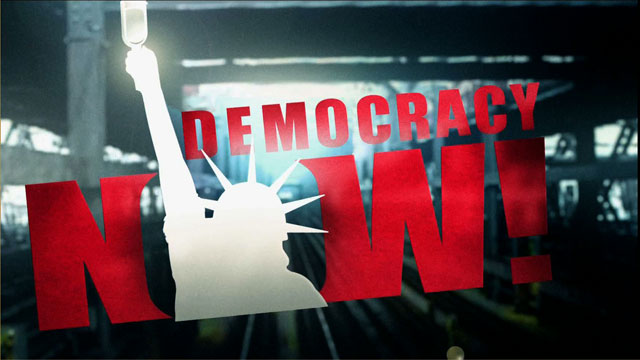 Media Options
Pacifica Radio, the only independent radio network in the country, and home to Democracy Now! is currently engulfed in what many describe as the fight for its survival. For more than half a century, Pacifica has been at the forefront in providing news and programming on the critical issues of the day that are all-too-often ignored by media outlets controlled by corporations with vested, commercial interests.
Pacifica has consistently covered popular movements such as those for civil rights, anti-war, antinuclear, gay and lesbian rights, radical environmentalism, against police brutality and the movement to stop corporate globalization.
Yet current Pacifica management and board practices have alarmed many supporters of the network. In August 1999 in Berkeley, Pacifica management installed armed guards at KPFA, had staff arrested and shut down the station for three weeks. This past December at WBAI in New York, management installed a new general manager, and in what death row prisoner and journalist Mumia Abu-Jamal recently described as the 'Coup on Wall Street', a number of producers have been banned and fired.
Many see an orchestrated campaign by the Pacifica Board and management to alter the politicalcontent of Pacifica programming. Pacifica management argues that Pacifica serves a small listenership ofroughly 800,000. And that to survive and grow, the network needs to become more professional so that stations can reach and serve a larger and more diverse group of people.
One of the events that has sparked controversy occurred last week when Ken Nash, host of WBAI's weekly labor show, was interviewing NY Congressman Major Owens about labor problems at WBAI. Station manager Utrice Leid came into the studio, interrupted the congressman's statement mid-sentence,canceled the show and kicked out Nash. Owens denounced the action on the floor of Congress as a violation of free speech and has since called for a possible hearing. Earlier this week Owens met with Pacifica Executive Director Bessie Wash.
Tape:
Rep. Major Owens (D-NY), addressing Congress
Guest:
John Murdock, member of the Pacifica Foundation board and chair ofthe governance committee. E-mail: John Murdock.
Juan Gonzalez, former "Democracy Now" host and leader in a campaignto challenge the corporate direction of the Pacifica board.
Related link:
---