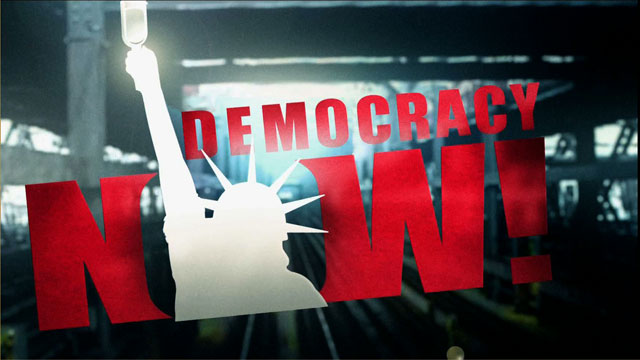 Cairo, Egypt — In the second day of defiance of a military curfew, more than 150,000 protesters packed into Tahrir Square Sunday to call on President Hosni Mubarak to step down. The mood was celebratory and victorious. For most, it was not a question of if, but when, Mubarak would leave.
Military tanks have been stationed at entrance points around the square with soldiers forming barricades across streets and alleyways. In another departure from ordinary Cairo life, people quickly formed orderly queues to get through the army checkpoints. Soldiers frisked people and checked their identification cards. One soldier said they were making sure no one with police or state security credentials could enter.
Reports are widespread that many of the looters in Cairo are, in fact, remnants of the police and state security forces that were forced into a full retreat during Friday's mass street revolt. In addition, hundreds, perhaps thousands, of prisoners were released from prisons in Fayyoum and Tora. Many believe it's all part of an organized campaign by the regime to create lawlessness in the city in a last gasp attempt to maintain its grip on power. The headline of Al-Masry Al-Youm today blared: "Conspiracy by Interior Ministry to Foment Chaos."
But those concerns largely evaporate inside Tahrir Square where a blossoming of mass public political expression is taking place. Never before during Mubarak's reign have so many gathered in one place in popular protest. Tens of thousands of people clapped in unison and chanted slogans ranging from the serious and patriotic to humorous rhymes filled with biting wit. Many had spent the night in the square and scores planned to stay longer.
A helicopter hovered overhead and two military fighter jets made repeated flybys, coming in at a lower altitude each time until the noise became deafening. Whatever the intended message, the crowd was not intimidated. They cheered, held up victory signs and waved in defiance. After emerging victorious in Friday's battle with the interior ministry's forces, there is little that can quell the enthusiasm of the Egyptian people or their full-throated call for change.
Mubarak's attempt to placate the mass uprising by naming two of his top party officials, Omar Suleiman, the country's infamous intelligence chief, as his first Vice President and Ahmed Shafik, a former Air Force commander, as Prime Minister have been met with strong opposition amongst the protesters.
"Omar Suleiman is not an option. The people are chanting against him today," said Nazly Hussein, a 30 year-old protester in Tahrir. "People want to bring down the system…I don't think anyone is going home until the president and everyone around him leaves."
Mohamed El Baradei–the Nobel Peace laureate and former head of the International Atomic Energy Agency–arrived in Tahrir Square today to address the crowds. Baradei's reputation is beyond reproach and he commands respect amongst most Egyptians but many say he has lived outside of the country for too long and criticize him for not taking part in earlier street protests. Nevertheless, some are calling on him to be included in some type of transitional government.
The one unifying theme, however, remains Mubarak. Everyone wants him out and it is difficult to imagine what iota of support he holds in any segment of Egyptian society save for his very small inner circle. And so, the people wait. It turns out six days of revolt will not be enough to overturn thirty years in power. But patience is wearing thin.
One man who is sure Mubarak's time is up is my uncle Mohamed Abd El Qudoos [Arabic is phonetic and the English spelling of our last name varies within the family]. A leading opposition protester, Mohamed is the head of the Freedom Committee in the Press Syndicate, which has ties to the Muslim Brotherhood. He has been arrested countless times over the years by police and state security forces for leading small-scale demonstrations. Last week he was arrested on Tuesday and then arrested again during Friday's uprising. A picture of him being dragged away by plainclothes police was shown on international news outlets across the globe. He was eventually released and able to join Saturday's protests. In Tahrir Square Sunday, dozens of people came to pay tribute to his struggle. They shook his hand, kissed him hello and took pictures with him.
"This is a dream come true," Mohamed said, sitting in the middle of the packed square in his standard attire: suit, flag and megaphone. "Remember when I would stand on the steps of the press syndicate to protest? I would stand alone. Now look at everyone. They are all here."
Sharif Abdel Kouddous is a senior producer for the radio/TV show Democracy Now.
Follow his Twitter feed at @sharifkouddous.
---